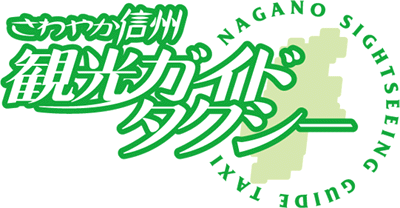 Sightseeing Guide Taxis are marked with this sticker.
Nagano Sightseeing Guide Taxi Certification
Served by certified drivers only
Criteria for driver certification is as follows:
-Drivers with no accidents or violations in the last 3 years
-Drivers that have been carefully selected after recommendations from their respective taxi company presidents (or recommended by the association head if a private taxi service)
-Drivers who have passed an exam following a hospitality seminar and tourist guide training course
In order to give customers peace of mind, certified drivers for Nagano Sightseeing Guide Taxi all have to display their certification on both their uniforms and vehicles.
In addition to regular service, Sightseeing Guide Taxi's drivers are knowledgeable about society, literature set in Nagano, and the areas around their companies. They will also serve as your guide, cameraperson, and escort.
Nagano Prefecture Taxi Association serves as your point of contact with the companies of the certified drivers (including private taxi services).
Since Nagano Sightseeing Guide Taxi is reservation only, it is possible to design the route you would like.
When coming to meet you at the station, your driver will come all the way to the ticket gate (lobby for ryokan/hotels) to meet you.
Your train's arrival time, hotel name, and other details will be put together by the representative of the taxi company in charge.
If you have your own car or other arrangements, your driver will meet you at the location of your choosing.
Travel Brochure Service
Nagano Sightseeing Guide Taxi customers will receive brochures about the places they are going to.
Questionnaire
Customers are asked to fill out a questionnaire from the Nagano Prefecture Taxi Association. Efforts will be made to make improvements based on customers' responses. Everyone who fills out a questionnaire will receive a free Zenkoji Temple tin of shichimi togarashi spice.
About Operators
Nagano Sightseeing Guide Taxi drivers undergo training every year and the number of companies with Nagano Sightseeing Guide Taxis is increasing one-by-one. The list of companies is accurate as of 4 1, 2019.